ASIMO Completes Rehab: Next Stop Hollywood?
Asimo emerged from rehab with new skills and a new outlook on life. Citing "exhaustion" and possibly a prescription drug habit, Asimo retreated to the ol' R&D labs for an upgrade.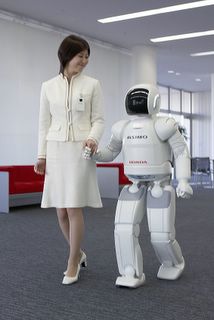 A spokesperson for the robot star reports that, "the new ASIMO achieves the enhanced ability to act in sync with people – for example, walking with a person while holding hands."
"In addition, the running capability is dramatically improved, with ASIMO now capable of running at a speed of 6km/hour and of running in a circular pattern." After the
near miss in Paris
, we all know Asimo can use more running speed.
Honda reports that Asimo is now "a truly useful humanoid robot which possesses both intelligence and physical capabilities at a high level." They hope one day their efforts "will further enable ASIMO to make comprehensive judgments based on various situations."
Asimo dancing. Okay! Don't hurt yourself!
Do those "various situations" include a music video for the hunchback of Honda? Very doubtful! Although reportedly "by using the force (kinesthetic) sensor, ASIMO can hold the hand of the person and move in sync with them. " He still dances like a white frat boy. So far he has not shown the moves of his shrimpy Sony cousin,
Qrio
.
But with his other enhancements like " maneuvering by taking flexible actions such as slowing down or changing directions" and his new improved ability to run straight or in circles, we may be seeing the birth of the next action star.
Move over Arnold!
Honda Worldwide | December 13, 2005 "Honda Debuts New ASIMO"