Robot Maru to Serve Drinks at Economic Summit
MARU the Robot to Debut at APEC
By Kim Tae-gyu
Staff Reporter
Korea looks to attract the world's attention with its advanced technologies during the Asia-Pacific Economic Cooperation (APEC) summit in November in Pusan.
The Korea Institute of Science and Technology (KIST) Thursday said that the state-backed institute plans to show off its network-based robot, named ``MARU,'' during the event.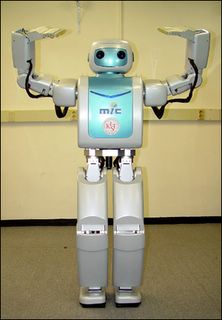 KIST will introduce the robot to the leaders of Asia-Pacific countries and demonstrate its many functions, such as delivering beverages.
The network-enabled robot refers to a humanoid to which software is provided via the wireless Internet instead of embedded programs, such as in conventional models.
The robot itself is only capable of mobility and its other functions, like sensing and processing, come from the Web, thus enabling production of the sophisticated robots at an affordable price.
The Ministry of Information and Communication (MIC)
took the wraps off five network robots in June
and is jockeying to start feasibility tests of the models in hundreds of households next month.
Korea has channeled a lot of energy and resources into the new-concept robot with the aim of
becoming one of three robotic powerhouses
in the long run.