Canada Welcomes Robot "friendship ambassador"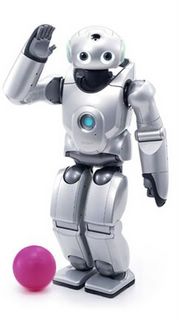 Toronto, ON, September 14, 2005: Sony's robot QRIO (pronounced "curio" for "curiousity"), will be making its Canadian debut at the Ontatio Science Centre this weekend. As Sony's "friendship ambassador", QRIO travels the world with the purpose of encouraging curiousity in children. This will be its first, and perhaps only, visit to Canada.
Although Canada claims that it is not excluding robots from the nation.
They have been supporting affirmative action for robots for years noted Dr. Patrick Tevlin, Associate Director of Science, Ontario Science Centre. "We have been developing programming that focuses on robots for a number of years, and these programs continue to grow as interest in robotics expands. The Ontario Science Centre feels it is very important to continue to explore and develop ways to engage and challenge our visitors by offering a wide range of robotics programs and workshops."
marketnews.ca
qrio pitching in DC
qrio in the classroom
qrio problems in school