Security Robot Includes Fuel Cell Power
Sohgo Security Services Co.
, a major security firm, is currently developing a robot equipped with a fuel-cell battery that will work round the clock for one week without a recharge.
It is designed to work as a receptionist while being charged and go on patrol a few times each night.
Sohgo Security is aiming to equip the robot with a fuel-cell battery to be supplied from
Yuasa Corp
., a major battery maker.
The robot sends alarm signals to a security center when it detects flame within 10 meters and people within 8 meters. It also intimidates possible thieves with alarms, flashing lights and loud recordings of the words "thief" and "wait."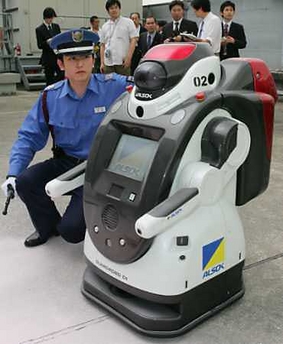 "Thief! Wait! Touch my screen for directions!"
"The robot can even work in dark rooms using ultrasound wave sensors and infrared rays," Ariki said.
As a receptionist, it gives building visitors directions using voice guidance and a touch screen. It can also lead visitors to their destinations.
"However, we have no intention of developing dangerous tools that will cause physical harm, even to thieves" Tosaka said. "Robots must not have the capability of attacking human beings."
More on Sohgo Security robot...
Another fuel cell powered robot...
Fuel Cell Works Supplemental News Page
Labels: security robot