Hign Speed Hand to Catch Balls
Researchers at
University of Tokyo
Ishikawa Namiki Laboratory
have developed a high speed robot hand capable of catching fly balls.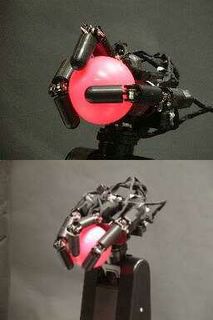 The hand has three fingers and a 32 by 48 array of sensors in the 'palm' to detect the incoming balls.
The flexible fingers can also grasp other shapes such as cups and hand tools.
videos here
.
New Scientist Breaking News - Robot catcher grabs high speed projectiles