Kid in Bed Sends Robot to School
Child at Valhalla hospital attends school as a "robot"
By MERYL HYMAN HARRIS
MHHARRIS@thejournalnews.gannett.com
THE JOURNAL NEWS
Trevor Ortiz raised his hand to ask and answer questions, listened intently and moved his head and eyes to follow the teacher.
But Ortiz, 13, wasn't in the social studies classroom at Blythedale Children's Hospital. He was in a room down the hall, looking at a robot that was looking right back at him through a similar apparatus in the classroom.
His class participation was "telepresence," the notion that someone can be someplace he isn't. This wasn't a "virtual classroom." It was a real one, and Ortiz participated in the lesson precisely the same as students who were actually there.
The other students said it was no big deal to have Ortiz in class robotically, but teachers said the results for the Brooklyn resident were astounding.
"Sitting" at a desk with other students, the classroom robot had a live video of Ortiz's face in its head, which moved from side to side and up and down as Ortiz directed what looked like a game pad with the skill of one well-schooled in video games. His teachers said he knew how to work the controller minutes after he got it.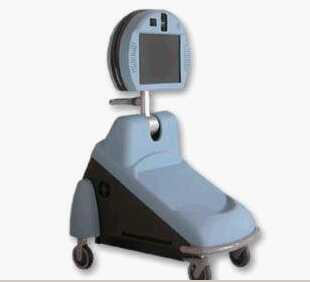 "It has a good zoom," Ortiz said as he expertly panned and zoomed the robotic camera.
The computer is a venture of The
PEBBLES Project
, a nonprofit educational organization in Milford, Conn. The robots were placed in various locations throughout the U.S. — including New Haven, Conn.; Cleveland; San Francisco; and Miami — through $1.8 million in federal grants.
They also are for sale commercially through
Telbotics
, a Toronto-based company in the "telepresence" business.
Telbotics' philosophy includes the notion that the units — actually carts on which the robots' heads and torsos are mounted — should take up about the same space as a child so students around it will feel comfortable and interact with their classmate on the screen.
Ideally, PEBBLES technician Dan Broderick said, "the technology becomes transparent, allowing the child to feel he's in the room."
Child at Valhalla hospital attends school as a "robot"
Labels: telepresence