US Home Care Robot
Georgia company
Gecko Systems
has introduced a home Mobile Service Robot the MSR 3.4.
The web site claims:
...the ability to automatically follow Grandma (or other designated person) around in their daily routine about their home. Our latest MSR addition, GeckoTrak, enables our upgraded CareBot MSR 3.4 to timely remind Grandma, or others, to take medications, of favorite TV shows coming on and other routine reminders by always being close by and within easy hearing distance.
Now that we have covered the application fee, on-site training, warranty, and delivery, the
cost of a CareBot MSR 3.4
excluding applicable sales taxes, is $19,950.00.
If you ask me, it is still a little overpriced for a rolling alarm clock.
It does look alot like Rosie though.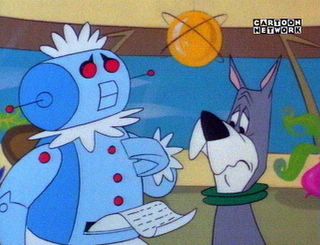 GeckoSystems, Inc.