New Robot Resists Explosions
Kuka Robotics Corp.
says potentially explosive situations are just fine for its new industrial robot.
The Kuka KR 16 EX is a six axes robot with a payload capacity of 16 kg and a reach of 1610 mm. It is designed for use in environments such as paint rooms where fine gases, dust and vapors pose a potential explosion risk. The robot is pressurized and sealed, and meets multiple explosion protection certifications.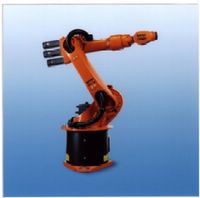 KUKA Robotics Corporation, with its parent company KUKA Roboter GmbH, Augsburg, Germany, is one of the world's leading manufacturers of industrial robots, with an annual production volume approaching 10,000 units, and an installed base of over 60,000 units. The company's 5 and 6 axis robots range from 3kg to 570kg payloads, and 635mm to 3700mm reach, all controlled from a common PC based controller platform.
News Release
IndustryWeek : New Robot Resists Explosions